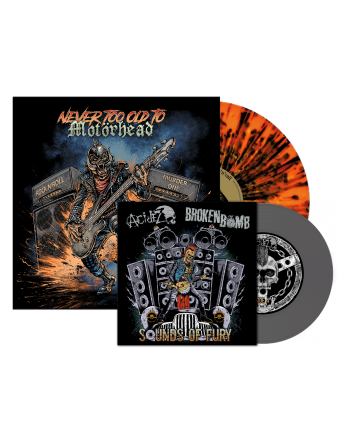 A package with the compilation "Never too Old to Motörhead" (limited edition vinyl splatter) and the split "Acidez/Broken Bomb - Sounds of Fury" (7" limited edition asphalt grey).
With its impressive tracklist, this Motörhead tribute brings together 14 international punk, thrash and rock'n'roll bands.
14 unreleased tracks recorded by the best of the genre, an essential record for all Lemmy and his band afficionados !
On the roads of punk, thrash and rock'n'roll, ACIDEZ and BROKEN BOMB drive at high speed to deliver us 3 explosive tracks.
In reference to Mad Max, this 7" vinyl is full of rhythm and fury !!!